Here is the second part of my interview with Staffan Noteborg on Pomodoro Technique. You can read the first part here.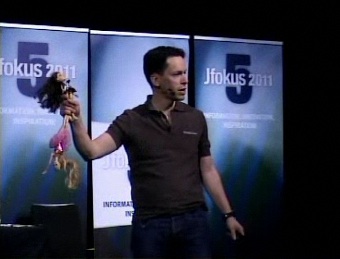 - I feel that sometimes adhering to 5 minute breaks is harder than focusing on a task for 25 minutes. People might argue that when they are in a "flow", they won't need a break. Does that make sense?
To have a sustainable pace during the day, you need to take breaks. It's also a good time to re-asses your plan. Is the thing you focus on still the most important one?
- When it comes to tools, I understand that you favor a plain kitchen timer, a piece of paper and pen. I like simplicity too – so I created what I'd like to think is the best designed Pomodoro Timer for iPad. How do you feel about such digital tools? 
Digital tools can be great if you e.g. want to spread information fast, save large amount of data, or do quick calculations. But, before you use them, I recommend that you ask yourself: Do I really have any benefits in this case?
- Effectively managing your to-do list is a big part of the Pomodoro Technique. I really like the simplicity of having a super simple list with items grouped as "now", "today", "later". Is the "now list" your invention? Please tell me the thought process behind it.
I think it's my invention, even though many other people most certainly have similar concepts. Even if you decide to focus on just one thing, your thoughts easily starts to wander now and then. Writing the title of your current activity on a slip of paper and putting it next to the keyboard reminds you with in a fraction of a second what it was.
- A couple of concepts from your book that I'd like you to clarify: "never switch tasks in-session": What about bundling a small number of small, administrative sort of tasks together and knocking them off in one Pomodoro?
That's according to the rules. The con is that you will have to think about when to switch. The pro is that you can get more than one very small thing done. The default rule, however, is to "over-learn" if you believe that you're done before the clock rings.
- Another one: You recommend frequent re-strategizing. I, personally, like to come up with my weekly goals and tasks once at the beginning of the week and unless something changes dramatically, I wouldn't touch my master plan. Isn't reprioritizing at every break too much?
Reprioritizing isn't a big deal if you have a limited amount to choose from. Since you collect just a few of your tasks in the morning and save them on the to-do-today sheet, you don't have to choose from everything. In most cases the first question is more or less: should I continue with what I was doing or not?
- I find the whole continuous improvement cycle like reviewing estimations, trying to improve their accuracy etc perhaps a bit too much.  There is beauty in Pomodoro Technique's simplicity. Your thoughts?
Estimation is the hardest part of Pomodoro Technique. I think that as a new practitioner, you don't need to do everything from the text book. Start with some new practice – if it works for you, then add some more.
- Final question: Why is any task that takes more than 7 Pomodori too large? Is this an arbitrary number?
This is just a rule of thumb. You can think "half-a-day" instead or choose any other interval length. Small tasks gives you feedback early, then you can use that information to adapt your plan.